openGear 1-Channel 12G-SDI to Single Mode ST Fiber Transmitter
Product by: AJA Video Systems, Inc.
The OG-FiDO-T-12G-ST is a state of the art, openGear compatible 12G-SDI to Fiber converter, enabling 12G-SDI signals to be extended up to 10 km (32,808 ft) over standard single mode fiber optic cable. The 12G-SDI input is reclocked with best in class input jitter tolerance. A reclocked looping 12G-SDI output is also provided. The OG-FiDO-T-12G-ST offers a locking ST barrel connector for secure connectivity, advantageous in many live event, production, and mobile environments.
AJA openGear OG-FiDO products are designed for use in high density openGear 2RU frames, including AJA's OG-X-FR frame, with industry standard DashBoard software support on Windows®, macOS®, and Linux®, offering remote control and monitoring over a PC or local network.
Features:
Video Formats: 270 Mbps - 12 Gbps, format agnostic
Inputs: 1x 12G-SDI BNC with SDI Loop out
Outputs: 1x 12G-SDI BNC; 1x Single Mode ST Connector
Monitor via openGear DashBoard software
Support for HDR - High Dynamic Range video 
Input Present and Input SMPTE Lock LEDs
Automatic detection and reclocking
270 Mbps, 1.483 Gbps, 1.485 Gbps, 2.967 Gbps, 2.970 Gbps, 5.934 Gbps, 5.940 Gbps, 11.868 Gbps, 11.880 Gbps - Auto Select
Nominal Wavelength; Tx: 1310 nm (typ)
Power: 3 watts Max
Hot-swappable
Appropriate Fiber SFP included
Rear I/O card included
Compatible with OG-X-FR, OG-3-FR, and DFR-8321 openGear frames
Five year warranty
Example OG-FiDO-2T-12G Signal Flow Diagram
This diagram shows six openGear OG-FiDO-T-12G-ST cards being used in an OG-X-FR rack frame, which highlights the high density capability of the openGear platform. The studio sets each contains a total of six 12G-SDI cameras connected to six OG-FiDO-T-12G-ST cards, which provide the 12G-SDI to fiber ST conversion. Fiber runs are then extended up to 10km to an OB production truck with six OG-FiDO-R-12G-ST cards in an OG-X-FR rack frame. The Production Gallery receives six discrete camera feeds as 12G-SDI via the OG-FiDO-R-12G-ST, driving the gallery video monitors with ultra low latency.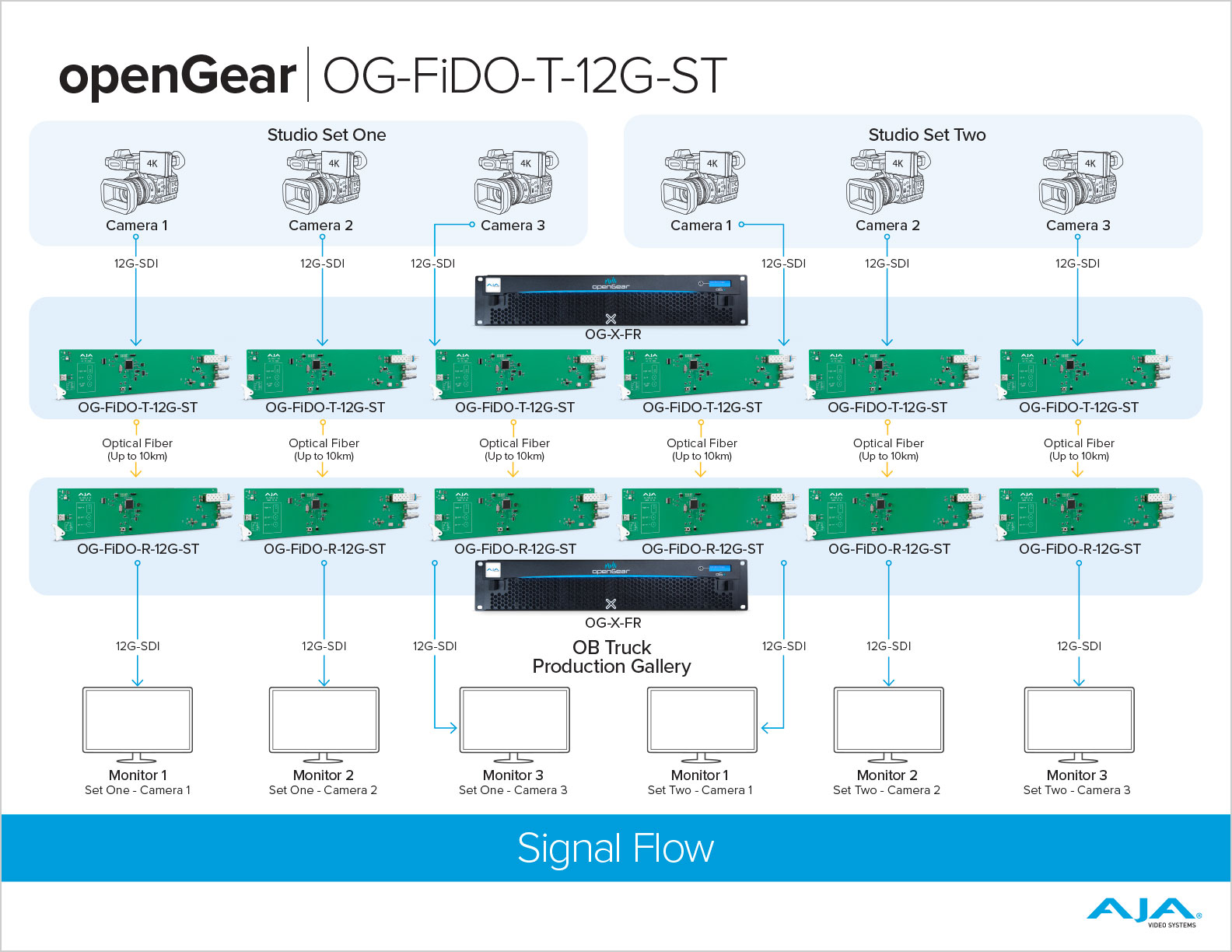 Video Overview
Watch this video to learn more about openGear advantages, DashBoard software and AJA openGear card solutions for your workflows.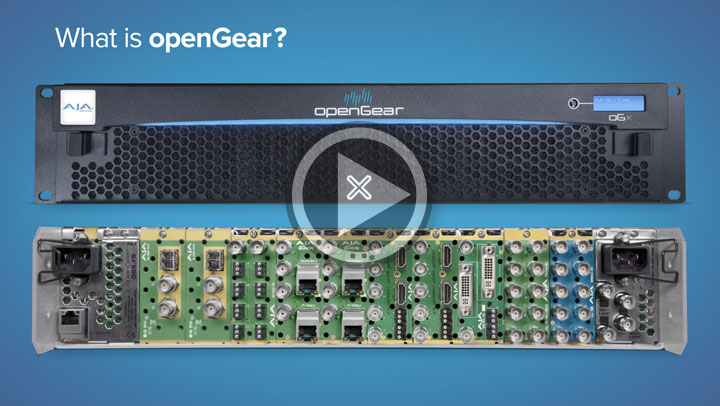 Connectivity
The 12G-SDI inputs are re-clocked with best-in-class input jitter tolerance. 12G-SDI input support, which includes 6G/3G/HD/SD-SDI. Both signal paths are independent and can be different rates. Supports single mode fiber cable.
openGear Compatibility
The openGear standard ensures that AJA cards will be compatible with other openGear products from certified openGear partners. With a growing list of products, openGear is the future of rackframe products.

Flexible I/O
The modular rear panel allows custom I/O connections per card (included with individual cards).
Failsafe
The optional redundant power supply provides a secondary power source in the event of a primary power failure.
Ethernet Access
A standard Ethernet connection allows the frame to be accessed via the Dashboard application for overall frame communication. Optional per-card Ethernet access can be installed in the frame for advanced communication with compatible openGear cards.
More Info
Download DashBoard Software
Ross DashBoard software offers quick and convenient configuration and control of openGear cards on macOS, Windows and Linux.
For the latest DashBoard software downloads for your platform of choice, please visit www.opengear.tv:
AJA Mini-Matrix
Information on the complete line of AJA Rackframes and cards are now available in the Mini-Matrix mobile app on iOS. AJA product are extensive and this app helps you find the right converter for any situation, wherever you are.
Individual products have links back to the main AJA website for more details and you can email product information directly from the app. The free AJA Mini-Matrix app for iPad® and iPhone® is available now in the Apple iTunes® Store.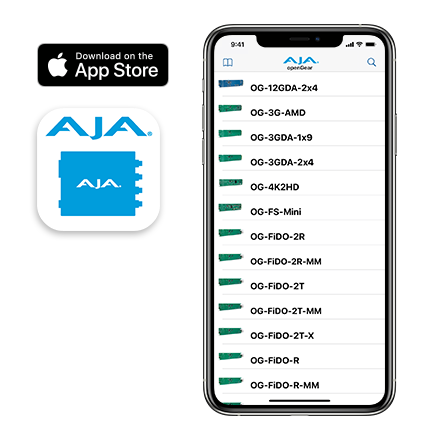 Industry-Leading Support
AJA's technical support is recognized as among the best in the industry and is available to all AJA customers. If you need assistance with any aspect of your openGear installation, configuration, operation or encounter any technical issue,  AJA Support will work with you to get up and running.
OpenGear products are covered by a generous five year international warranty.  Please see the individual Product's Manual for additional specifics around warranty conditions for the product itself.
Questions about this Product?
Send us a note and we'll get back to you as soon as possible!