openGear 12G-SDI/DANTE 64-Channel Embedder/Disembedder with Dashboard Support
Product by: AJA Video Systems, Inc.
Overview

Flow Diagrams

Rear Module
OG-DANTE-12GAM is an openGear, Dante audio embedder/disembedder, with dual 12G-SDI input and output ports providing up to 32-channels of audio embedding and 32-channels of disembedding simultaneously. OG-DANTE-12GAM provides the bridge between SDI and Dante infrastructures.
Dante audio networking provides digital audio distribution over local and wide-area networks with low latency, using standard network hardware or by connecting into a standard network infrastructure. This offers many advantages over analog, AES, and MADI infrastructures, including audio system scalability, easier installation, and simplified wiring.
A fully populated OG-X-FR openGear frame with ten OG-DANTE-12GAM cards, provides an incredible 640-channels of audio bridging in a rack-mountable form factor for a wide range of needs.
Features
Support for 12G/6G/3G-SDI audio embedding to- and from- the Dante audio ecosystem
Dual, and independent 12G-SDI Input and Output ports, each supporting 16-audio channels, totaling 64-channels per card in a compact design
1x Primary and 1x Secondary Gigabit Ethernet ports for Dante network redundancy
64-channels of simultaneous SDI/Dante audio bridging per card
DashBoard support for remote signal status and configuration
Compatible with a range of Dante Software from Audinate including Dante Controller for routing and configuration choices
High density and small form factor, enabling 10 cards to be utilized in a single openGear frame for up to 640-channels of SDI/Dante audio bridging
Supported within OG-X-FR and OG3 openGear frames
Hot-swap capable
Industry-leading five year warranty
Bridge Between SDI/Dante Sources and Destinations
OG-DANTE-12GAM bridges between SDI sources and destinations with embedded audio to/from the Dante audio ecosystem.  It's your SDI/Dante Gateway.
OG-DANTE-12GAM bridges between SDI sources and destinations with embedded audio to/from the Dante audio ecosystem.  It's your SDI/Dante Gateway.

OG-DANTE-12GAM provides two 12G-SDI ports for input and two ports for outputs, providing single cable support of 4K/UltraHD/2K/HD/SD video material and up to 16-channels of embedded audio support per SDI connection. This enables 64-channels of SDI/Dante bridging simultaneously.

Audio can be bridged, mapped and embedded from Dante sources into each SDI stream or disembedded from SDI and served to Dante destinations using Dante Controller software.

Redundancy across the Primary and Secondary 1 GigE Ethernet connections in OG-DANTE-12GAM for Dante audio, provides security and peace of mind.

The openGear format offers high density with up to 10 cards within each openGear frame.

This all adds up to 640-channels of audio bridging between SDI and Dante audio in a single rack frame, ideal for flykits, OB vans and facilities.

The openGear OG-X-FR frame itself supports redundant power supplies, critical for live environments and constant up time.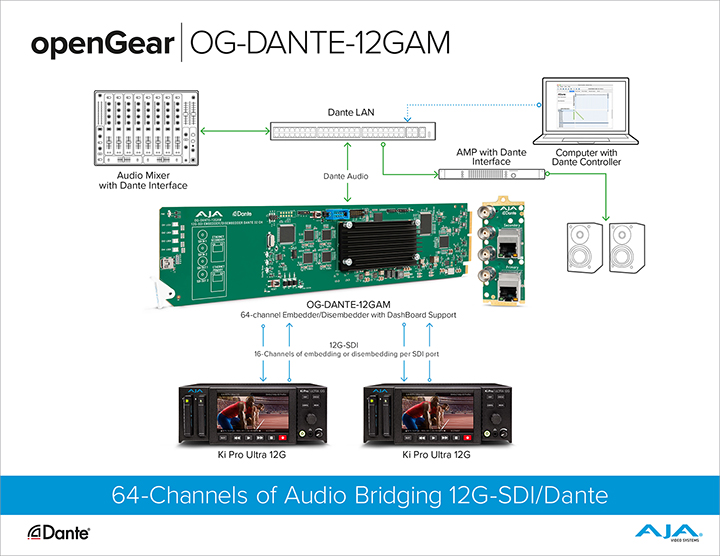 OG-DANTE-12GAM Workflow
OG-DANTE-12GAM is your bridge between embedded SDI audio and Dante sources and destinations. With Dante Controller software, you can route sources and destinations wherever required across 1 GigE networks.
Embed your DAW audio outputs into your video projects for mastering and more. Disembed your SDI program's audio content and deliver across the network to drive mixers, amplifiers and more in live venue contexts.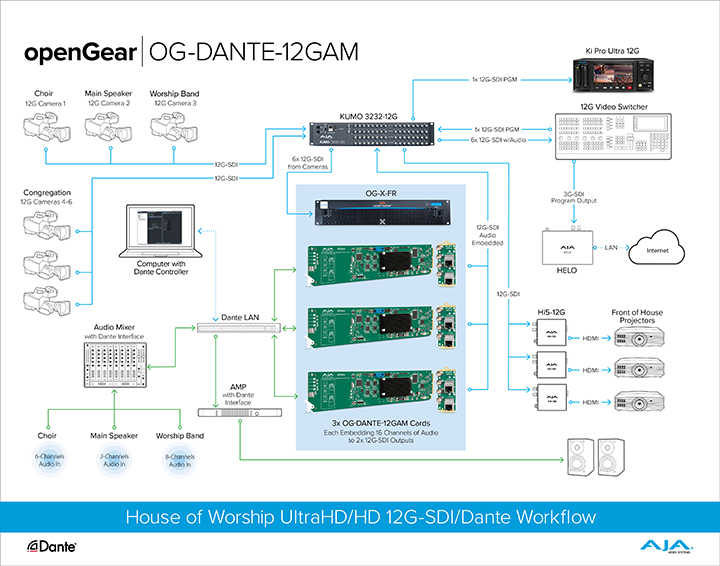 Industry-Leading Support
AJA's technical support is recognized as among the best in the industry and is available to all AJA customers. If you need assistance with any aspect of your openGear installation, configuration, operation or encounter any technical issue,  AJA Support will work with you to get up and running.
OpenGear products are covered by a generous five year international warranty.  Please see the individual Product's Manual for additional specifics around warranty conditions for the product itself.
Questions about this Product?
Send us a note and we'll get back to you as soon as possible!